About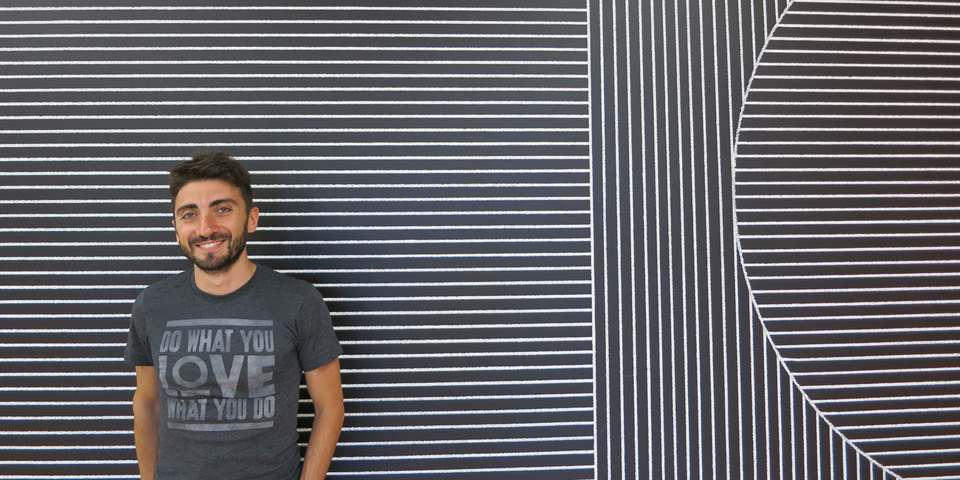 Hi!
I am Gian, a Marketing and Cleantech enthusiast, based in New York City.
Born in Northeastern Italy to Italian art teachers, I grew up eating Italian food and studying Madonna col Bambino, so pizza and creativity are part of my DNA. My visual creativity evolved during university when I was awarded first place at the International Mediterranean Creativity Prize. This event led me to study graphic design which has enabled me to turn my intangible ideas into effective messages. While studying, I gained valuable experience at design and communications agencies where I quickly understood why "creativity without strategy is called 'art.'" From there I decided to further develop and enforce my strategic thinking. After completing my Bachelor's in Communication Sciences at the University of Trieste, I went on to earn a Master's in International Marketing and Communications at the Ca' Foscari University of Venice, where I focused on the creation and management of successful brand strategies.
Since 2009, I have had the opportunity to lead innovative projects in the electric vehicle space during an exciting turning point for the transportation industry, due to the birth and development of car-sharing services and a growing demand for sustainable, smart, and connected vehicles. In 2015 I moved to New York to share my life with my American wife who has quickly become fluent in the language of Italian gestures.
On this side of the Atlantic, I try to take advantage of the best that the boot-shaped peninsula has to offer. You are likely to find me thinking about which type of pasta goes better with my sauce, playing the right-winger on a soccer field, and enjoying the dark side of an espresso. Travel is my greatest passion, so I love to visit new places and enjoy nature. Curiosity and the desire to explore rarely leave my side. A fan of good design and innovative business ideas with equal enthusiasm, I am always gathering inspiration whether it is at the nearest exhibit or through online research.
Here you will find projects that I have been involved in to date, so please feel free to kick off your shoes and browse my digital space, maybe in the company of good Italian wine.
Whether you are interested in collaborating, or just want to find out more, I would love to hear from you.
Gian
---
Testimonials
"Gianpaolo is one of the hardest workers I know. His ambition and drive to build the marketing team and strategy in the NA market were impressive and the results were quickly noticed. He is thorough in his work, passionate about marketing, and contributes directly to business growth. He took full ownership of our brand presence in the NA market, built a great team, and drove the vision together with the rest of the organization. I look forward to working together again, and I'd recommend Gian to anybody who wants a seasoned marketing manager steering their company to success."
———
November 8, 2021
Madalina Buzdugan
Senior Manager Strategic Programs
"Gianpaolo is a passionate manager that cares deeply for his team and his work. His focus and attention to detail are essential for the development of our team. During the 2+ years that I've worked closely with Gian at EVBox, I've seen first-hand how he isn't afraid to get into it and do whatever it takes to make his team succeed. It is inspiring to see how much he cared for the development of our brand and how he made opportunities happen for our NA office."
———
October 29, 2021
Georgea Zilli
Senior Creative
"I had the pleasure to have Gianpaolo in my team for the last 4 years as Head of Marketing for NA. Gianpaolo is a highly competent and truly dedicated professional. Always aiming to succeed and looking for the best for the team, the company, and the customers. He always delivers a high-quality output of work and constantly with strong attention to detail. Gianpaolo is a cross-functional marketer with a great marketing mix mindset. Able to navigate well amongst all marketing disciplines and put a comprehensive plan altogether. Next to that Gianpaolo is a strong leader who empowers his team and truly cares for their development and overall success. Gianpaolo is a marketer I will always love to work with and have within my team. I highly recommend Gianpaolo to anyone looking for strengthening or leading their marketing team."
———
October 23, 2021
Beltran Dobao
Global Marketing Director
"At EVBox I've had the pleasure to work with Gianpaolo on various projects. As Acquisition Marketing Manager of the EVBox headquarters, I've worked together with him on various marketing campaigns, website developments, and marketing automation projects. Gianpaolo is a passionate and highly motivated individual who always pushes himself and the team to go the extra mile. He is commercially driven and excels at working in a demanding and fast-paced environment at a scale-up like EVBox. Gianpaolo is a great asset to any organization like ours."
———
October 19, 2021
Tom Smedes
Manager, Acquisition Marketing
"I've worked with Gianpaolo for 4 years at EVBox and can say he's one of the most committed, driven, and tenacious marketers I've met. With Gianpaolo, we started marketing activities in North America from scratch, having built a solid digital presence, introduced high-quality events to customers, and improved substantially our partner experience. Thanks to Gianpaolo, we were able to always deliver high-quality output due to his detail-driven and meticulous approach to tactical execution. It was a joy to work with Gianpaolo during these four years and see him grow at EVBox, taking a lead in the North American market, challenging our marketing approach to it, and being able to always deliver more than intended with limited resources and budget. Gianpaolo is a marketer I will always love to work with and have on my teams, and would recommend him to anyone looking to solidify and grow their marketing presence and outreach."
———
October 19, 2021
Hugo Pereira
Chief Growth Officer
"For the last 4 years, I've had the great pleasure of (very successfully) working together with Gianpaolo on various cross-continental projects & large events. Gianpaolo is a highly ambitious, result-driven, and creative marketeer with a passion for branding and sustainability. He is an excellent communicator and highly skilled at building and leading a marketing team, as well as very adept at dealing with change and challenges. Keep up the amazing work Gian, I'm very excited to continue following your journey!"
———
October 18, 2021
Job Karstens
Senior Corporate Communications Manager
"It's rare to find someone as passionate and detail-oriented as Gianpaolo. I had the pleasure of working with him at EVBox where he leads the North American marketing department and where we collaborated on launching various new products. Gian's work ethic is unmatched; often working late into the night to complete a task to his high level of perfection. He also demonstrates a superb willingness to assist team members whenever his strategic or brand marketing mindset can help, and came to my rescue many times. Perhaps most impressively was his execution of Revolution Connected, a 250+ person experiential EV conference based in NYC. Leading a lean team, Gian successfully oversaw the event strategy, budget, branding design, marketing & communications outreach, and follow-up engagement as well as the entire on-site activation. This amongst his many other qualities and successes would make him an asset to any company!"
———
May 8, 2020
Cole Rosson
North American Product Marketing Manager